The Confessions of Young Nero
A mother's deadly ambitions. A boy who would be sovereign. A name that would be infamous. This is the epic tale of Nero's rise to power, a thrilling story of survival, betrayal, love, and the struggle for the Roman empire that would change history.
One of today's premier historical novelists, Margaret George dazzles here as she tackles her most difficult subject yet: the legendary Elizabeth Tudor, queen of enigma—the Virgin Queen who had many suitors, the victor of the Armada who hated war; the gorgeously attired, jewel-bedecked woman who pinched pennies. England's greatest monarch has baffled and intrigued the world for centuries. But what was she really like?
A lush, seductive novel of the legendary beauty whose face "launched a thousand ships"
Daughter of a god, wife of a king, prize of antiquity's bloodiest war, Helen of Troy has inspired artists for millennia. Now Margaret George, the highly acclaimed bestselling historical novelist, has turned her intelligent, perceptive eye to the myth that is Helen of Troy.
Biblical references to Mary Magdalene are tantalizingly brief, yet she continues to spark controversy, curiosity, and veneration. We know more about her than about many of Christ's male disciples, and her significance is enshrined in her ancient honorific "Apostle to the Apostles." But still, as a woman, she remains in shadow. Was she a prostitute, a female-divinity figure, a church leader, or all of those?
The world-renowned author of The Autobiography of Henry VIII and Mary Queen of Scotland And the Isles turns from Renaissance Britain to ancient Egypt and the story of Cleopatra, Queen of the Nile. Told in the first person — from the young queen's earliest memories of her father's tenuous rule to her own reign over one of the most glittering kingdoms in the world–this is a mesmerizing saga of ambition and power.
Mary Queen of Scotland and The Isles
She became Queen of Scots when she was only six days old. Life among the warring factions in Scotland was dangerous for the infant Queen, however, and at age five Mary was sent to France to be raised alongside her betrothed, the Dauphin Francois. Surrounded by all the sensual comforts of the French court, Mary's youth was peaceful, charmed, and when she became Queen of France at the age of sixteen, she seemed to have all she could wish for. But by her eighteenth birthday, Mary was a widow who had lost one throne and had been named by the Pope for another.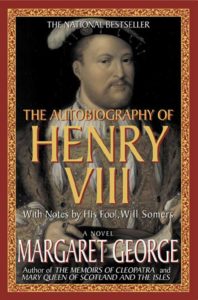 The Autobiography of Henry VIII
Much has been written about the mighty, egotistical Henry VIII: the man who dismantled the Church because it would not grant him the divorce he wanted; who married six women and beheaded two of them; who executed his friend Thomas More; who sacked the monasteries; who longed for a son and neglected his daughters, Mary and Elizabeth; who finally grew fat, disease-ridden, dissolute.
Click on the images below to get a hi-res version.